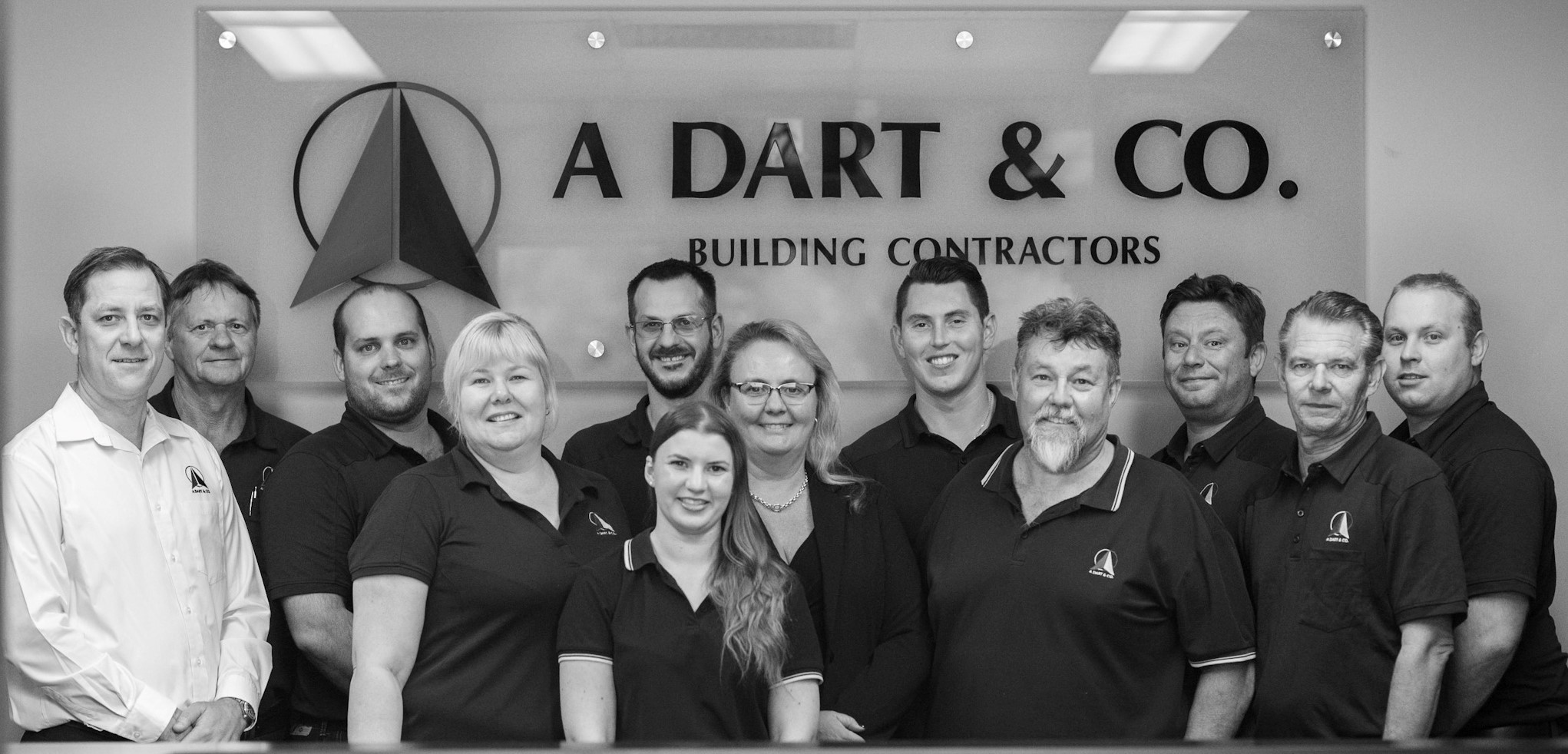 Jeffrey Dart
General Manager

Jeff started as an apprentice in 1976 before progressing through the ranks of this successful family owned company. Jeff took over the reins in 1992 and has since expanded A Dart & Co to include commercial and industrial construction, maintenance, refractory and composite cladding. Through his experience and commitment, Jeff leads a team of dedicated professionals to ensure that A Dart & Co is well established for the future.
Simon Scodellaro
Construction Manager

Simon started in the construction industry in 1995 and holds a Bachelor of Applied Science (Construction Management) (Hons). Simon has extensive experience in commercial, industrial and civil construction, along with façade composite cladding, and drives the Composite Cladding and Building aspect of the business. Simon oversees all project managers and projects, ensuring that all projects are completed to the client's requirements, on time and on budget. Simon also coordinates all A Dart & Co's resources to ensure that each project has the tradesmen, the tools and equipment needed to complete the job.
Matthew Dart
Contracts Manager

Matt has grown up around construction and began his career in the family business as one of our cadets, he graduated in  2019 with his Bachelors in Urban Development (Construction Management) (Honors) from the Queensland University of Technology. His interest in construction and  contracts has led him to take on an administrative role within the business and combined with his experience in construction and construction estimating he serves as a valuable member within the company and in particular on larger projects maintaining the administrative requirements. Matt is often of great assistance, always willing to lend a hand to other construction teams to ensure the best possible outcome for the client. His keen attitude and interests in the commercial industry has fast grown since joining the company.
Joanne Rabjohns
Administration Manager

From when Jo started in 2005 and has introduced a number of reforms within the administrative systems to ensure that A Dart & Co is positioned well to lead into the future. An upgrade of the software to that is used throughout the organisation as well as overseeing a leaner and more efficient office environment ensures that everyone who has contact with the staff at A Dart & Co receives a quality service. Jo has been tasked with ensuring the resources and facilities are available for the Quality Management and Safety Management System complies with the relevant guidelines.
Ray McKinley
Workplace Health Safety & Environment Manager

Ray has extensive Building Industry & Civil experience.  Over the years Ray has discovered a passion for Quality, Health and Safety working within AS4801 & AS9001. Ray commenced work with A Dart & Co in 2007 and has implemented and manages our Quality and Occupational Health and Safety Management System. Ray works with our staff, employees, subcontractors and clients as we strive for continuous improvement in our health, safety and environmental performance and ensures we have the resources necessary to achieve best practice standards at all of our work sites.
John Meek
Estimator

John started out as a cadet in 2006 and in 2012 completed his studies in construction management. He is a valuable member of the team specializing in composite cladding & commercial projects. During his time as an estimator, John has developed a close working relationship with many local suppliers & subcontractors and has recently started playing a more active role on site. Johns experience has helped A Dart & Co to be the successful tenderer on some major projects in Queensland.
Matthew DuPayne
PROJECT MANAGER

Matt recently joined A Dart & Co bringing 26 years of construction industry experience, specialising in  Large commercial roofing and wall cladding projects. He completed his carpentry apprenticeship in 1992 and honed his trade working on the tools and as a leading hand before moving into project management. He prides himself on building positive and strong working relationships with clients
to support the successful delivery of each project. Matt is working closing with Rob to grow the architectural cladding side of the business and maintain our exceedingly high standard of finish across the sector.
Daniel Cussel
Estimator

Daniel started at A Dart & Co in 2016 and has approximately 6 years' experience tendering commercial construction project in South East Queensland . He is a valuable member of the team and has experience in pricing a wide variety of projects including New Build, Refurbishment, Fitout, Industrial & Civil works. During his time as an estimator, Daniel has developed an excellent eye for detail and works closely with subcontractors and our construction team to ensure we are able to offer a competitive tender on every project. More recently he has started playing an active role co-ordinating the design phase of D&C projects. Daniels experience has helped A Dart & Co to be the successful tenderer on some major Government projects in Queensland.
Steve Nielsen
Project Manager

With years' of experience in the housing/commercial/industrial building industry, Steve started with A Dart & Co in 1984, Steve brings a wealth of expertise and knowledge to his projects. Steve is a dedicated Project Manager with an exceptional eye for detail, a focus on client satisfaction and the ability to source materials and subcontractors that will ensure that every project is completed to the highest standard, and that the final product is exactly what the client desires.
Chris Tauri
Safety Advisor

Chris has recently joined our team to assist in the safe delivery of major projects and ensure the strictest of safety, environment and quality standards are achieved across our growing company and ensure compliance to As 4801 & As9001.
Robert Palmer
Project Manager

Rob started on the tools in 1988 and has extensive experience in the housing, industrial and commercial construction industry. Rob progressed through the ranks to currently managing the Composite Cladding arm of the business. Some of Rob's projects have included the Clem 7 Entry Canopies, Brunswick Street Station Upgrade, St Laurence's College Auditorium and Redcliffe Leagues Club. Rob expertly manages all areas of this arm of the business to ensure that the client's expectations and specifications are met to our high work standards.
Hayden Philbert
Project Manager

A Dart & Co welcomed Hayden in 2017 as the newest member of our team.  Hayden's experience in the construction industry started as a tradesman working as a carpenter in architectural housing. Hayden has a large variety of experience having worked in general construction, commercial fit out and maintenance. Hayden has over 10 years' experience in commercial fitout, refurbishment and construction with a high level of experience in complex services and high end finishes.  Hayden has been involved in a number of national roll-out projects for corporate clients and is proactive in ensuring the end product is completed to expectations and also functional for the end user.